I picked up one of these cameras on ebay for 20 quid. It has 4 lenses positioned at different angles and takes 4 half frames for every half exposure. The film has to be printed using the lenticular process giving 3D prints that you can view without having to wear those ridiculous glasses. Alternatively you can scan the film and then use Photoshop to load the files into a stack and then animate them to give a crude 3D effect. We'll look at how to do this in my next post.

Nishika claimed to have spent hundreds of millions of dollars in this camera's development and used the sort of technology that was used to put Austin Powers into space. Actually I think they spent a few thousand buying up the patents from Nimslo following failed attempts in this field. Anyway, the camera is made of the finest plastic 20 pounds can buy, takes 35mm film, has a sort of retro design from the early 80s and is a hoot. I took this puppy out on a trip to Florence and Siena and the full set can be seen on my flickr page

Alternatively here are some of the better images: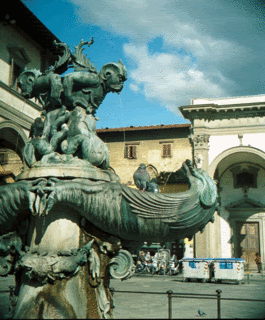 On a point of interest - the 3D effect only works if you stand on one leg and wave your arms around like an idiot!